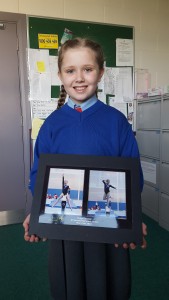 Paige wrote; "On Saturday May 21st I competed in the All around National Finals in the University of Limerick. I competed in Level 4 Under 11's. The photgraph shows me doing my Beam Routine created by my coach Anna"
Well done Paige! Photo looks great.
Naoise wrote: "On the 22nd May I did the Leinster Schools Swimming Championship in the Watershed Sports Complex in Kilkenny. I was representing Scoil Choca Naofa
I swam in 3 events – 50m Backcrawl, 50m Butterfly and 50m Freestyle. I came 2nd in the Backcrawl and the Butterfly and 3rd in the Freestyle. I got two Personal Bests (PB) in backcrawl and Freestyle. i was very happy with my results."
Great job Naoise – All here in Scoil Choca are very happy to have been represented so well.