[hr]
Music
School Choir
Music and singing are part of a rich heritage fostered in Scoil Chóca Naofa. Fifth and Sixth classes participate in Cór Náisiúnta na nÓg, founded by Dr. Seán Creamer in 1985 to celebrate European Music Year. In 2012, a committee of Kildare teachers organised a very successful Kildare Regional Children's Choir Concert for the first time.  We are particularly proud that one of our teachers, Máire Ní Loinn, was the first conductor of the Kildare choirs. We are confident that successive concerts will bring as much pride and joy to all involved. Visit http://www.nationalchildrenschoir.org/ for more details.
This year Scoil Choca will make its first appearance in the Peace Proms – 5th and 6th classes will perfom in the RDS early in the New Year.
Piano
      
Qualified piano teacher, Carol Somers visits our school 2 days a week. Some of her students take the Royal Irish Academy Piano exams. All her students perform for their parents at our annual Piano recital. It never ceases to amaze me the progress children make during the year. Carol is such an excellent teacher and her own love of music is inspirational.
Recorder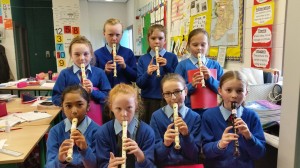 We are delighted to welcome Laura O'Neill, our  new Recorder teacher to Scoil Choca. She will teach a wide range of music, classical and pop to all pupils  in 1st to 6th Classes. The children in 5th and 6th classes will continue to play a range of more specialist recorders – descant, bass, etc . Parents are invited to hear their children play at a recorder recital in May.
Ukelele
With the sponsorship of the Parents Association, Sarah's Ukelele class started in the Library on Thursday evenings – we look forward to their first recital later in June.
[hr]
Physical Education
Scoil Chóca Naofa aims to encourage all pupils to participate in a range of sports for the purposes of enjoyment and recreation. Ms Diggin is our PE coordinator. She organises a comprehensive PE programme – gymnastics, dance, team games, athletics – with specialist teachers visiting every Thursday. Our annual SPOOKY WALK organised by Ms McCabe, subsidises payment for the specialist teachers. The walk also funds maintenance and purchase of equipment.
Camogie
Scoil Chóca Naofa has enjoyed a long camogie tradition. Under 11 and Under 13 teams participate in Cumann na mBunscol competitions including Mini Sevens. Kilcock GAA use our field for their underage camogie training.
Football
Scoil Choca fields Under 11 and Under 13 teams for Cumann na mBunscol competitions.
Athletics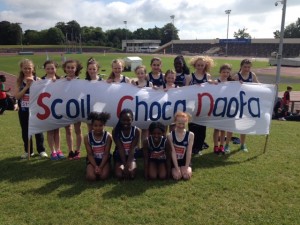 Scoil Chóca feature strongly every year at Cumann na mBunscol cross ¬country meet, as either individual or team winners. We are also represented in the Dublin Primary Schools' Sports in Santry, giving excellent performances in both track and field events. We participate in many school events oprgaised by Kilcock Athletics Club of which many of our students are members.
Dancing
Dance is an important aspect of the PE programme, with children being exposed to creative as well as a variety of folk dances. Órla Ní Chonnuladh provides not only expert but also very enjoyable Irish dancing classes and by the end of the year the children can perform many céilí dances (Falla Luimnuí, Ionsaí na hInse, Bridge of Athlone, 8-Hand Reel, Fairy Reel and many more). Fifth and Sixth classes will attend Irish dancing classes in term 2 when Third and Fourth classes are involved in Swimming. Trish McDermott's modern dance sessions are a big favourite.
[hr]
Visual Arts
Deirdre Shanley is our Visual Arts coordinator. She involves us in a variety of programmes including "Artist for a Day" and "CraftEd" ensuring that different classes avail of the programmes each year.
Every class' own art work is on the notice boards outside the room accounting for the regularly updated and colourful displays along the corridors. Children enter many art competitions and our students are often among the prize-winners in the annual Credit Union Competition, Moyglare Art Competition, etc. This year Moyglare Stud presented a handsome cheque to the school which will be used to upgrade and restock our Arts equipment.
[hr]
Languages
An Ghaeilge
Is ar chumarsáid agus ar úsaid na teanga mar ghnáth-theanga bheo a leagaimid béim agus spreagaimid na páistí páirt a ghlacadh in imeachtaí Gaelacha – Camogaíocht, Damhsaí, Ceol.
English
The school has a number of paired reading and reading buddies programmes. Visiting authors are invited to the annual School Book Fair. This year 2nd Classes are looking forward to Kate and Emma's aunt visiting to read her books about Farm Safety.
[hr]
Information Technology
All Scoil Chóca Naofa classrooms have internet access and data projector as well as a number of computers. We have overhead projectors and interactive whiteboards in every classroom.
The use of computers is encouraged within each class as tools for research, basic skills practice, writing assignments, multimedia presentations, creative expression as well as providing access to a library of curriculum software. The highlight of 2015 was Coding Week . This year we have formed an after school Coding club "Scratch Plus" and we are looking forward to many interesting projects from them. 2016 saw us become a Digital School of Distinction with high praise from the validator on the cooperation between Board, Parents and teachers to make ICT a valuable learning experience for the students.
[hr]
Green Schools Programme – Let's all live in a Green World
Green Committee :
Teachers Bríd Sheil, Laura Mahon, Máire Ní Dhálaigh
Pupils: 6th – Chloe Curran, Megan Mc Namara,Nadine Heinrychs
5th – Kayla King,Gemma Crehan,Anna Carney
4th – Tolu Shogunle, Niamh Ryan
3/4th – Mila Herbert ,Rachel Downing,
3rd – Alexa Vedernikova,Shakira Mc Partlan
2nd – Abbey Fagan, Betty Dumbryte,Weronika Dopierala ,Alisha White
1st – Imogen Quinn, Jewel Muchina
Sen/1st – Lucy Redmond,
Seniors – Hannah Leger, Ríona Perry
Juniors – Katie Redmond, Rachel O'Reilly ,Hannah Birmingham ,Maria Maye
Theme : Global citizenship
Scoil Choca were awarded their 6th Green Flag which was raised on the afternoon of Sports Day with all the teachers and children in attendance. The work for this flag involved  litter surveys,  litter picking weighing, garden work , reuse/recycling- willow structures, projects on Trócaire, Fair Trade, water, energy conservation, posters  raising school awareness on litter, water , energy conservation throughout  the school/notice board Whole school approach; Each class has a particular job to do! Great work done in 3rd and 4th classes on surveys.
All of our pupils are encouraged to play an active part in the care of our environment. Ms Sheil is our Green School coordinator. She has organised the Green Committee involving parents, teachers and pupils since 2004 when we received our first Green Flag for "Litter and Waste Management". Since then we have earned five more flags for our efforts  – Energy awareness, Water conservation, Green Travel and Bio diversity. Litter and Global Citizenship our most recent.
As part of the Green Schools Programme, children are encouraged to walk, cycle or scoot to school: storage is available for bikes and scooters in the bike shed.
My favourite Green Committee initiative has to be the Insect Hotel – a real 5 STAR construction – thanks to Tommy – where multitudes of creepy crawlies or mini beasts can live happily.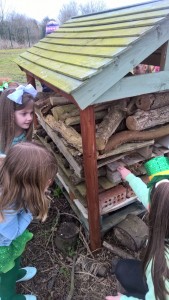 Riona Perry's mum has just finished Stage 1 of a sensory garden, complete with fairy houses and bamboos and paths for exploring. She has great plan for Autumn to start phase 2. She received many donations for the project and had the whole-hearted support of the Parents Association.
Other Activities
Educational Outings
Throughout the year, whole or part-day visits are made to places of interest as part of normal school work.
Quizzes
Teams from Fourth, Fifth and Sixth classes contest all local quizzes.
Sponsored Walk
Pupils, teachers and parents participate in our annual SPOOKY walk – a fun day for parents, staff and children.