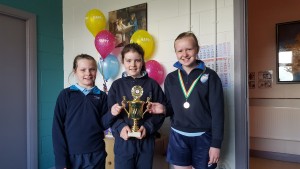 Congratulations to Kilcock Under 12 Camogie team who won the county Final on Friday. The match against Kill was held in Kill GAA. Trainer/Manager Kevin was extremely proud of the team who worked very hard during the year. Under captain, Eleanor Langbert, the team played strongly in the final.
Chairperson of Kilcock Camogie presented medals to all the players. After the great win many of the team went celebrating – Ciara, Naoise and Eve went to McDonalds and Shannon had a party at home.
Shannon, Naoise and Eve did a tour of the school with the trophy today. Well done girls!!!!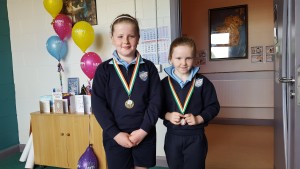 Kate and Ella with their Under 10 and Under 8 medals. – Congrats!