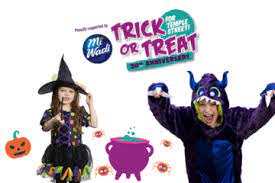 Well done to the whole school community on their recent support of the Trick or Treat for Temple Street Initiative, organised by our fantastic Parents' Association. We raised €850 for the cause.
The children went to great efforts dressing up on October 23rd and all those coins donated made such a difference. Check out the new Galebhratach Section of the blog, to see a flavour of some of the costumes.
Thanks to the Parents' Association for coming out to collect the money in their buckets that morning. The children were delighted with their sweet treats as a reward for their efforts.
The money collected on the day will be greatly appreciated by all the sick children who have to attend the hospital regularly due to their ongoing illness. Well done everyone!