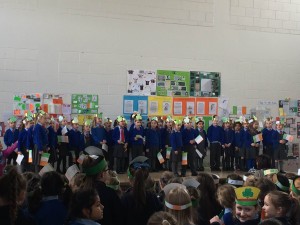 What an amazing day we had ….. the weather was great, the students were so engaged and respectful of the Flag Raising and Proclamation Reading Ceremony. Thank you to Ms Sheils and Olivia McNally who raised the flag. Olivia's grandad raised the flag for the opening of Teilifis Eireann (now RTE) on New Year's Eve 1961 with a Guard of Honour at Collins Barracks.
Thank you to Ms Quinn (new) and 5th and 6th class teachers who organised the writing of our "new" Proclamation. Thanks to Ms Grimes for the musical accompaniment.
The entertainment provided by all the classes afterwards was brilliant. Juniors sang "Lá le Pádraig"; Senior Infants, First and Second classes gave a great rendition of "Grace"; Third Class performed the well-known "Óro sé do Bheatha 'Bhaile"; Fourth class's danced the Brush Dance with great agility; Fifth and Sixth classes sang "Fair, Fair Land" as well as leading both performances of Amhráin na bhFiann at the beginning and end of the ceremonies. Buíochas mór do na múinteoirí go léir
Well done Ryan from Juniors commenting on Ireland's hundredth birthday and Jasmina from 2nd announcing that "Ireland is the best country in the world". Christabel is delighted that 1916 means we have our own government and that we are allowed to speak Irish".