Dear Parent/Guardians
Haven't we had such beautiful Autumn weather—everyone enjoyed walking and cycling to school. Traffic on the lane caused little or no problems for our neighbours. Traffic through the STAFF CAR PARK is almost nonexistent — THANKS to Tommy's work every morning at the staff car park gate and Pat at the Church gate.
HOWEVER—with the colder, wetter days of Winter approaching, I am asking you all to continue to park away from the school and give the children a chance to have a walk every morning and evening.
Please don't short cut through the grounds of the Convent/Nursing Home next door— staff are coming into work about the same time as us and do not expect children to be there.
Please don't park in our neighbours gardens or block their driveways. Please park carefully to allow access to the school in case of emergency. MÍLE BUÍOCHAS!!!!
***************
ASD Class
Scoil Choca opened an ASD Class this year. There are 4 children in the class so far and with the expertise of Ms Barry and Ann and Kathy great progress is being made. We are currently in the process of organising transport for the children. There may be some changes to traffic arrangements when this is finalised.
The Department of Education has notified us that the school is required to close for a day for staff training in ASD — Scoil Choca will be closed on THURSDAY DECEMBER 3rd.
***************
SPONSORED WALK
Well done to all the children, parents and staff who made tremendous efforts for the day. Special thanks to Ms McCabe the coordinator who organised all the admin around the walk as well the goodies and prizes. Thank you also to the parents who helped with refreshments on the day and the many parents who walked with us. We raised more than €5000 on the day. Funds are used to restore and purchase PE equipment and to pay for our visiting teachers. This is why you have to make such a small contribution at the start of the year.
There were some brilliant costumes—I hope to post some photos on the web page in the near future.
Thank you to the many sponsors in the town who supported our annual walk– CLEARYS TOPLINE; JOHN RYAN BUTCHER; MUSGRAVES; TOMMY KENNY TK ALARMS; BROWNES GARAGE; COLM DOOLIN in CENTRA Míle Buíochas
School closures for this Term REMINDER
Parent Teacher Meetings 17th and 18th Nov – Sen Infants – 6th Class Presentation Day Mass Friday 20th at 10am (Senior Infants to 6th) School closed for ASD Inservice Thursday 3rd Dec
* Sale of Work: Friday 11th December
Christmas Pageant Friday 18th Dec at 12.00****
Christmas Holidays: School closes at 12.00 on 22nd December
*************************
SALE OF WORK

Please start setting aside good quality books, games, DVDs, Bric-a-brac.
Donations can be sent to the school from the 1st December.
Cakes can be sent in on the morning of the Sale.
Raffle Tickets will be available for both children and adults from 1st Dec.
**************************************
Some Parents News
The AGM was very poorly attended. But the presentation from SUSO was excellent. I would love to invite them again to talk to you on the value of singing for your children's wellbeing, confidence, learning. I know that the parents who did attend were delighted with the knowledge they gained.
Ms Byrne's class were the "PARTY WINNERS" and I believe there will be surprise party some Friday soon.
The new officers for 2015/16 were elected at the first meeting of our new Parents Association on Tuesday 10/11/2015.
Chairperson: Emma McManus
Vice Chairperson: Claire Deane
Secretary: Deirdre Stack
Vice Sec: Jennifer Keogh Treasurer: Suzy Norris
Vice Treas: Paula Gallway
PRO: Heidi Jermyn, Amy McGrath and GeeBee Alli who will keep you up to date with Facebook, etc.
Meetings take place every second Tuesday of the month at 7.30 in the Staff Room and new parents are most welcome. Children love telling about their mums and dads being at a meeting in the staff room.
Parents nominees for the new Board of Management 2015-2019 are: Maria Panza Connaughton and Fergus McGrath.
***************************
OUR NEW BOARD OF MANAGEMENT
Primary schools in Ireland are governed by a Board of Management which acts on behalf of the patron. Our patron is Bishop Dennis Nulty.
I have been very lucky to work with excellent Boards of Managements. They have consistently worked with the clear purpose of " What is the right thing to do for the children in this school". This was clearly demonstrated by our outgoing board who brought the completion of the new school building to fruition. They also worked successfully with the parent body to introduce coeducation once again to Scoil Choca.
I would like to thank all the outgoing Board members on your behalf: for their Trojan work over the last four years: Fintan Hurley (Chair), Fr PJ Byrne, Sr Marie Ryan, John Hurley (treasurer), Gemma Tone, Margaret Ryan and Kevin Morley.
The four year term of the new Board will commence on 1st December. Our new nominees from the Diocese are Elaine Mahon and Fr Alex. The two new parents nominees are Maria Panza Connaughton and Fergus McGrath. Our teachers' nominee is Máire Ní Dhálaigh. The school Principal is always on the Board. These six people will come together to nominate 2 community representatives next Monday and the new Board will be in operation from December 1st
***********************
SCRATCH PLUS CLUB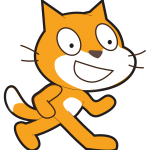 Well done to Heidi and her group of coders who are still going strong on a Tuesday evening. I hear there are some wonderful Christmas projects being prepared—I look forward to seeing them.
A special thanks to Heidi for donation of some very high spec computers … I plan to get some photos of children at work on the computers for the web page.