Autism Awareness Month is a time to educate our community about autism and Light It Up Blue! Spreading autism awareness in schools is a great way to celebrate April and promote inclusion and acceptance in the classroom and beyond. 
As you know we have an ASD Class since September – we are delighted that Ahmed, Amber and Javonty have joined us as part of the Scoil Choca community. We all meet and play together in the school yard. Sometimes we visit each other's classrooms for activities. Ms Barry, Ann, Grainne and Louise, the staff in the ASD class, are planning some exciting events for April – watch this space!!!!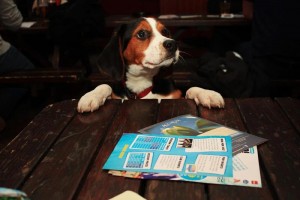 You're probably wondering what's this cute dog doing in the post? Toby is highly trained assistance dogs for children with autism and their families provided by the national charity Autism Assistance Dogs Ireland.
The dogs are specially trained to provide safety, independence and companionship to children who would otherwise live in a very isolated world.  These dogs help to transform the lives of children and their families.
Having an assistance dog allows the families to be able to go out again and take their child to places that they had stopped going to.  The dog also helps them to be able to partake in simple everyday activities that the rest of us take for granted.  A simple trip to the local shop can be a very stressful task for a child with autism.